Dentist Dr. Dipali Nigudkar in Allen TX
Dr. Dipali Nigudkar is committed to providing excellence in dentistry, and stands out as a leading dentist in Allen. The doctor uses the latest in dentistry techniques to provide you with a beautiful and healthy smile. Additionally, Dr. Dipali Nigudkar believes strongly in education to prevent oral health problems before they occur, and makes sure to keep patients fully informed about their dental health. Read more about Allen dentist Dr. Dipali Nigudkar below.
Ready to get started on your journey to a healthier smile? Contact Us Today!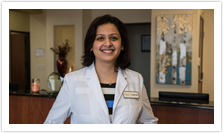 Dipali Nigudkar, DMD
Dr. Dipali is passionate about her work in Dentistry. For many years she practiced dentistry in India before deciding to attend Boston University's Henry Goldman School of Dental Medicine. She has been licensed to practice dentistry in the United States since 2007. She has worked at multiple offices in the DFW area to gain more clinical experience and she always takes more than the required education courses every year to stay on top of her dental knowledge.
"Dentistry is my passion and so is providing best quality service. When you are at Allen Heights Dental you are our family." -Dr.Dipali
Dr. Dipali has a loving family. She is married to her husband Kedar and they have two beautiful children, Rohan and Rusheel. She loves spending time with her family when she isn't at the office. She volunteers at Rohan's school during her spare time and believes family time is most important. She is also passionate about cooking and makes sure to combine both passions by cooking a hearty meal for her family to enjoy around the dinner table.
"We moved to Plano in 2007 and we absolutely love Texas. It's a great place to settle and raise kids. I am very excited to serve people in Allen and surrounding areas." -Dr.Dipali